Helping gardeners & commercial growers achieve their vision since 2011.
Sproutwell Greenhouses is an Australian family owned and operated business that has enjoyed helping gardening enthusiasts and commercial growers achieve their vision since 2011. Widely recognised as being the largest supplier of backyard greenhouses in Australia, you can be assured you're buying from the very best. Whether you are looking for a small backyard hobby greenhouse or a large glass outdoor room we have an option for every space and budget. We also have our fabulous range of Cedar Hot Tubs and Sauna's to create that perfect outdoor space.
Contact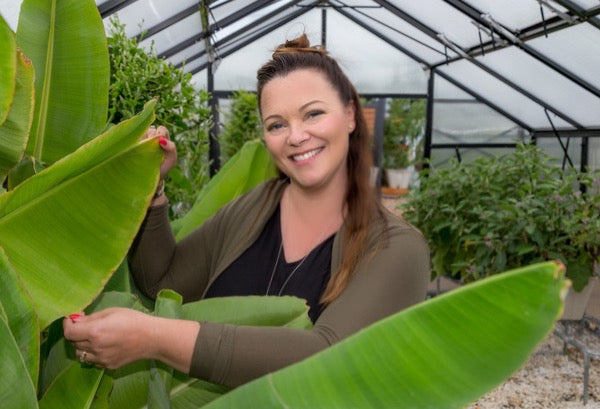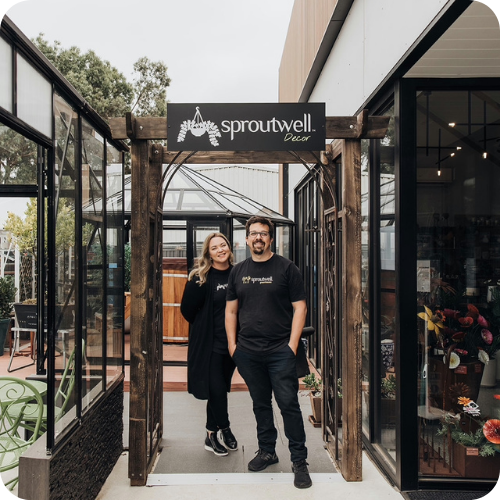 How it all started, our journey and our
mission.
A message from our owners Lisa & Clayton
What started as a hobby business back in 2011 has quickly grown over the years to what is now recognised as a well known and respected brand in the garden industry. The idea was for Lisa to have a way to generate income whilst raising our two small boys at the time. We never really imagined that it would lead to a business that has gone on to employ 14 staff over two locations. Our mission has always been to develop and design structures that are not seen nor can they be compared to anything else found in the Greenhouse market. Clayton's background as a Project Manager in the construction industry has even us an edge when it comes to working with manufacturers to product greenhouses that meet independent engineering and certification for Australia.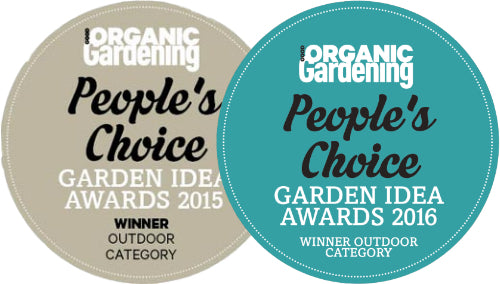 Award winning
ideas.
Good Organic Gardening has become the magazine of choice for organic gardeners and in true people's choice awards style, their engaged and passionate readers have given their support to the industry's best ideas. Sproutwell is thrilled to be acknowledged and announced as a winner for 2015 and 2016 people choice for the outdoor category!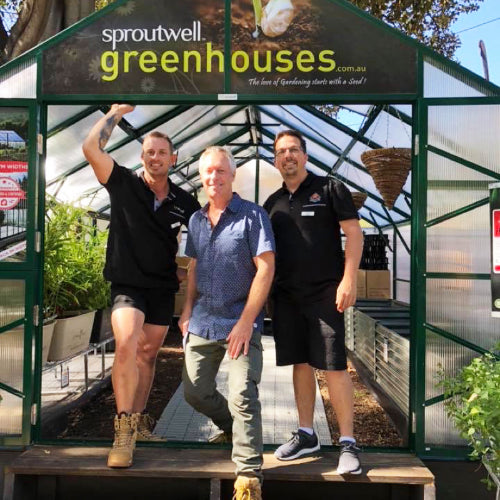 As industry leaders and innovators, we think outside the
outside the box.
Acknowledged as being leaders in the industry for innovation we have appeared on many different well-known television gardening programs, held demonstrations and spoken at many events and been interviewed for many articles published by popular gardening magazines.
We were also chosen to display 12 of our Regalia Glasshouses at the National Tasting Australia event for three years in a row. Clayton has interviewed for many talk back radio programs including programs on 3AW, SEN, 2UE and Pokey's Garden (Vision Australia).
We have worked with a number of organisations & identities such as...
- Tasting Australia - Hendricks Gin - Adidas Events - Veronicas Music - Architectural Exhibitions - Melbourne Central Spa Club - Truss Tomatoes Australia - Garden Gurus - Masterchef - Neighbours TV Program.
Sproutwell wouldn't be where we
are today without
our people.
Owners Lisa & Clayton couldn't be happier with the growth and numerous opportunities that they've been given since 2011. The business has grown from strength to strength employing 14 full time staff over two locations to ensure we meet demand and offer a high level of customer service. In 2020 Sproutwell moved into a brand new specially designed premises to incorporate all three divisions of the business under the one roof. We now successfully operate our warehouse and showroom to cater for the increase in demand to touch and feel our products.

Our customers love
#sproutwell


Greenhouses & Glasshouses

Tag your photos with #sproutwell to be featured - we love to see the creative ways you use our products!